AlumniConnect: Session One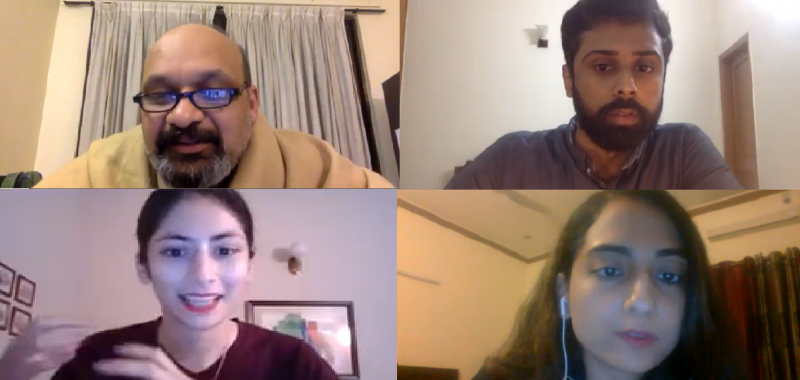 On November 25th, 2020, The LUMS Syed Ahsan Ali & Syed Maratib Ali School of Education formally launched its newest series AlumniConnect by conducting its inaugural session. The session was hosted by the School's Dean Dr. Faisal Bari and welcomed back three esteemed alumni from the School's first graduated cohort i.e. the Class of 2020.
The session invited Injila Rasul who is currently pursuing a Ph.D. at the University of Massachusetts Amherst focusing on Computational Thinking which seeks to understand how individuals solve tasks in a series of actions thereby presenting individuals as creative problem solvers, in a larger application of Math and Science to Education. Our second guest was Talha Dogar who is currently involved in management consulting and is also working at the LUMS Learning Institute, aiding faculty development and new strategic initiatives such as course development. Last but not the least, our final panelist was Sumaiya Zafar who is currently working as a Lead Facilitator at Leo's Workshop and is also leading her own venture Jugnu – The Enlightened Learners. Sumaiya's work focuses on project-based learning that seeks to develop greater agency in children by improving their cognitive thinking and problem-solving skills. The session opened with the three panelists talking about their current work, where they are, and their future plans.
Our alumni mentioned how the School of Education helped them in their journeys, aiding them in getting where they are today. They particularly talked about the Dean Advising Sessions as a friendly but productive means that helped them work out a pragmatic career plan while providing them with the right amount of motivation to aim high and pursue their dreams.
They went on to talk about the diversity offered by the School of Education in terms of both the courses offered and the general student body that hails from a plethora of different places, bringing their unique set of experiences and view points on the way the world of education works and ought to be, into the classroom. This diversity encouraged them to explore their own interests taking advice and guidance from the experiences of others, eventually finding their own niches. One's personality traits, they said, could also act as a boon or hindrance in helping figure out this career path. Regardless, the School and its general academic and non-academic environment assisted in this process of self-discovery.
The session concluded with a comprehensive Q&A round where current students asked about things such as employment prospects in the wake of the ongoing pandemic, tips on how to figure out one's own area of interest for further studies and/or professional work, and how former learnings from the classroom and interactions among peers continue to aid them today in their life after the MPhil program.
The session was formally ended by Dr. Bari thanking the three guests who were kind enough to return to their alma mater in a whole new capacity as sources of inspiration for their now juniors. It was heartwarming to see our alumni pursue their visions with such passion, determination and tenacity, and we hope to see our current students follow in the same footsteps, carving out their own unique careers and leading the education landscape.